BOOKSHOP
Unique guide journals to support your well-being
My life mission is to inspire people with everything I do and anything I am guided to do so. I feel exhilarated when I can participate in the elevation of positives vibes on this planet and personally uplift someone. I have designed Journals to support all users in feeling great. Each of them has different content and cover to nurture your energy in the way you need it. They are all made to raise your vibrations.
To release anxiety, to ask for guidance, to relax…I am happy to design journals/notebooks that answer any of your need. Please feel free to ask anything in which you will be interested to see created.
To buy, click on the link which will take you directly to Amazon website.
---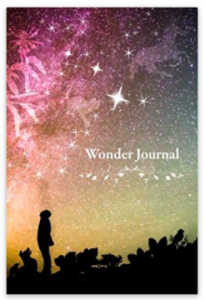 Wonder Journal: Activity and notebook/journal to inspire creativity and imagination to children
With beautiful colour illustrations throughout the journal, there are ruled paged to give space for writing, and blank pages for drawing. The instructions therein are translated in English and French. Discover the hidden images in the dreamlike cover's design and enjoy this notebook like a special friend where you can express all your fantastic ideas. It contains illustrations of unicorns, horses, flowers butterflies to name few, in the most creative way. Personalise your journal by answering the "all about you" questions about the things you love. ORDER HERE
---
Mystical Goddess Journal: A journal including inspiring quotes and questions to guide you towards a transformational life
This unique journal 6×9″ journal is designed to embody the goddesses power and uplift your spirit with each page affirmations, and the breathing exercise/meditation to help lowering down stress and anxiety. It is made to make you feel energised and vibrant. It includes inspirational positive life affirmations throughout its pages with specific questions to enhance self-reflection and self-improvement. It contains a list of Goddesses with their attributes as a source of feminine empowerment and reinvention in the first pages of the notebook. This journal can facilitate a spiritual awakening, empowering and has been designed to uplift any user. It is the perfect format 6×9″ to carry it comfortably. The glossy cover design invites to connect with the mystical energy we are all made of. ORDER HERE.  Goddess presentation short video
---
Mystical Journal: Path to enlightenment
Bullet journal/dotted notebook 6×9″ – 200 pages – Mystical journal glossy cover. This is an inspiring journal/notebook with a tiny quote within each page: "Love & Light, always." as a reminder that each moment of expression in this journal, such as writing, drawing, planning or sketching mindful thoughts, is a divine time. Mystical journal offers a time for contemplation, meditation, and personal creation. Connect with the flower of life in the cover design and feel your energy rising. Made with love. ORDER HERE
---
Mystical Meditation Journal: A Third Eye Meditation Guide & Journal: 6×9 dotted journal, 100 pages including two meditations to connect with your higher self, gain intuitive insight on your life's journey
This 6×9″ journal has been specially designed to help you connect with your higher-self, providing you with two powerful meditations and clear instructions to connect with the Third Eye, or the Pineal gland. It can be particularly helpful if you feel you need some guidance or need to receive insight about some life issues. Not only you will read about the spiritual vision of these meditations, but you will also gain the comprehensive anatomical and scientific understanding; on how these meditations can benefit you. The 100 pages design layout of the journal will assist you to keep records of the intuitive information you will receive during this enlightening time. Each page contains a space for the date and the question for which you need an answer with dotted lines to keep your writing clean and organised Listen to your inner voice, follow your dreams. ORDER HERE